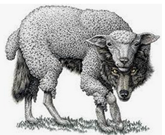 Video by Tamara Magdalene: "Perry Stone Checking His Phone"  Basically, Perry Stone is sitting at a small table pretending to be speaking in tongues while he was reading his text messages.
Video: "Kenneth Copeland's True Spirit comes out at REPORTER…False teachings" Kenneth, you've made so much money, it's time to retire and go fly yourself away in your private jet funded by your church.  Kenneth, someone needs to tell you that at this point in your life, you sadly look like a train wreck that we just can't stop watching.
Don't get to close to him female reporter he may morph and devour you.  Look at his face.  He's a hot mess express.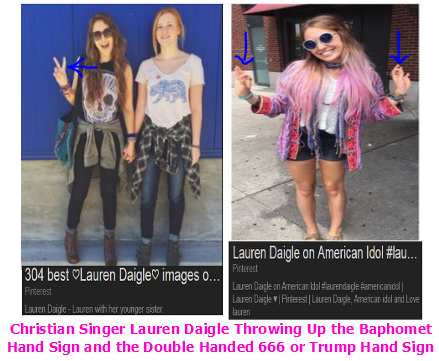 Video by Truthful Spirit: "Ellen Degeneres is a Gay Man Pretending to be a Lesbian"  I think that Truthful Spirit does excellent work but I do remember Apostle Laura Lee using this title before when she also exposed Ellen before Apostle Laura Lee's site was removed.
Video by DrewBloom34:  "Lauren Daigle is an Enemy of God"
Video: "Lauren Daigle MK ULTRA GLITCH during WITCHING HOUR!"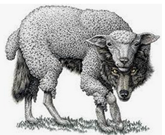 Video: "The FREAKY World of "Christian Artist", TobyMac"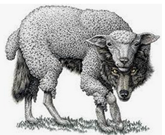 Part I of Vonda Brewer trying to scam an elderly woman out of her inheritance.  Vonda the hustler.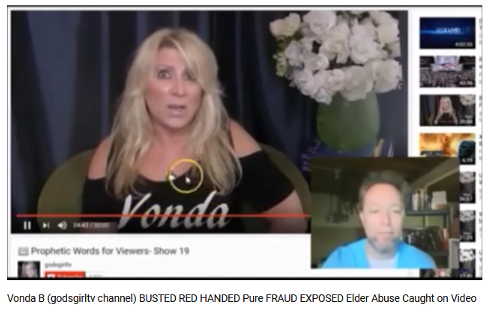 Part II of Vonda Brewer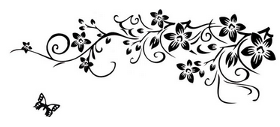 This video is to help explain why I use the name Yeshua now instead of Jesus which is the way that I was taught.
Video: "Where did the letter "J" come from"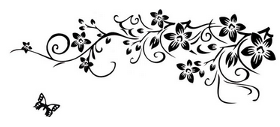 Jimmy Swaggart's church – see the cross of Lorraine on the floor.   Since the carpet of the church has crosses on the floor the church members unknowingly are walking all over the cross.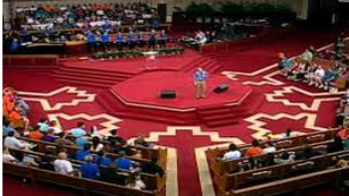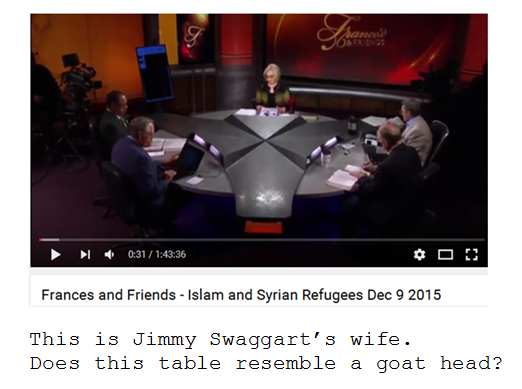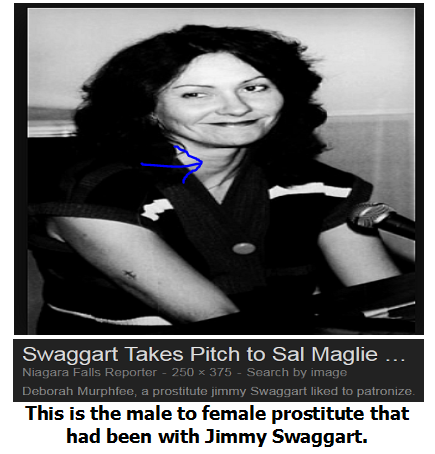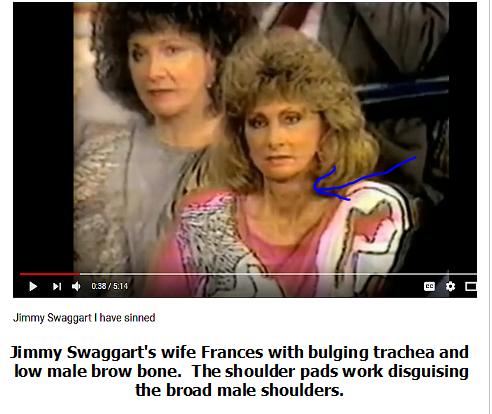 Video by Seho Song: "The HOLY SEPULCHRE Church in The Jerusalem Is the Synagogue of SATAN"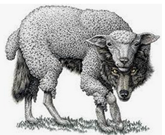 This is a 1 min. video of a priest being physically abusive to the kids going up for prayer.  Video:  "ACTUAL PROOF OF DEMONS PLAYING PRIESTS"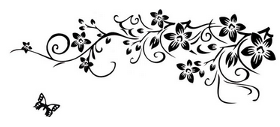 This "Christian" lady on YouTube I caught her eyes shapeshifting.  She said that the message from the Lord is to keep your eyes on heaven.  That's not what the Lord wants.  He wants you to tell people to repent of their sins and accept Yeshua/Jesus or face the Mark of the Beast and much worse.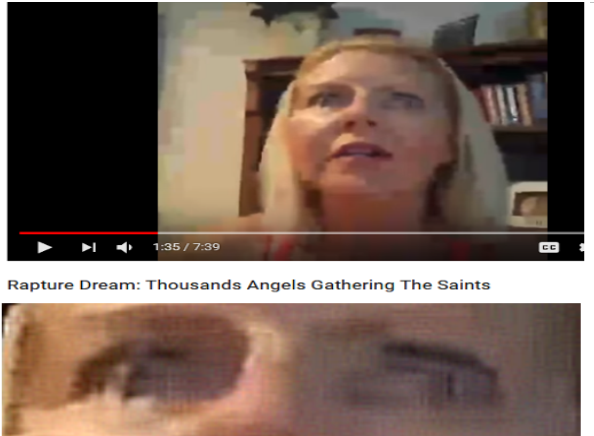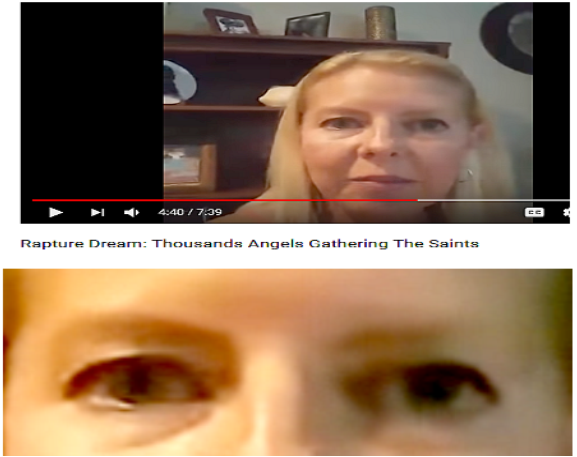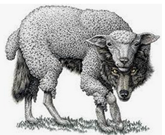 A Few of Satan's Favorite Preachers.  I forgot to put an arrow over Pope Francis the #1 cheerleader for Satan.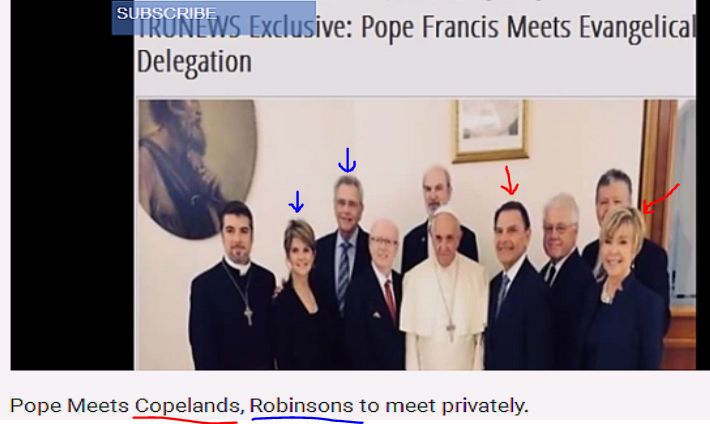 Pope Francis actually says other really dumb and satanic things like for example:  "Jesus failed at the cross" and telling the crowd not to pray to Jesus but to pray directly to him.  Gosh what a reptilian loser.
Video: "Pope Francis Declares Lucifer As God"
Pastor Copeland in a selfie moment praising Pope Francis.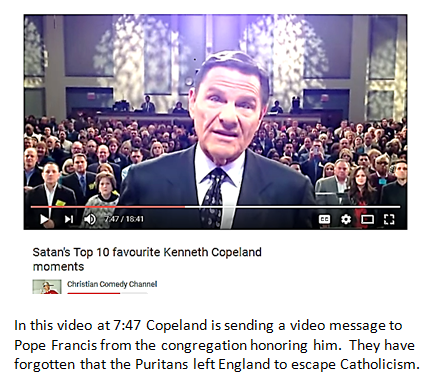 This is a under 3 min. clip of Kenneth Copeland praising Pope Francis in his own obviously ecumenical church.  Poor Kenneth Copeland.  As Joel Osteen would say "Best Life Now" so enjoy your best life now Kenneth.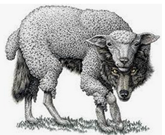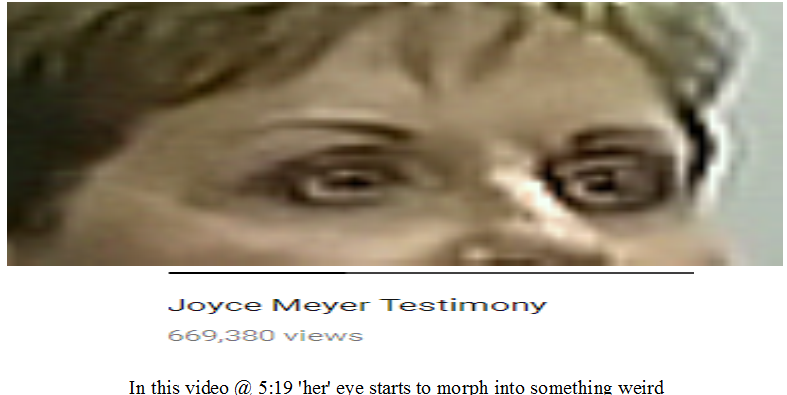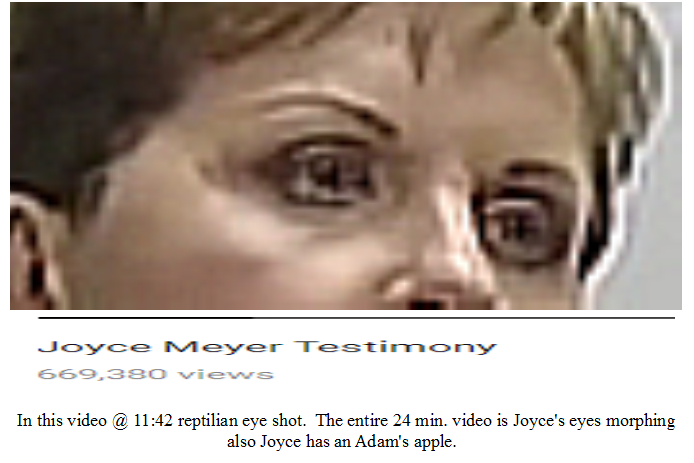 In this very short clip caught by Tamara Magdalene, Pastor Joyce Meyer will be seen throwing up satanic hand signs and wearing a shirt with upside down crosses while on stage.
This pic below is Joyce Meyer's home(s).
YouTube site – Heaven Exists. This is a man with an Adam's apple, big hands and a square jaw who claims to be a lesbian. This one is teaching the gospel and actually does a great job. I'm not sure what the end game is here because this is not a woman but claims to be a woman set free from homosexuality. I guess its just a joke on the Christians – the joke is on them since they don't have discernment to see that this is really a guy.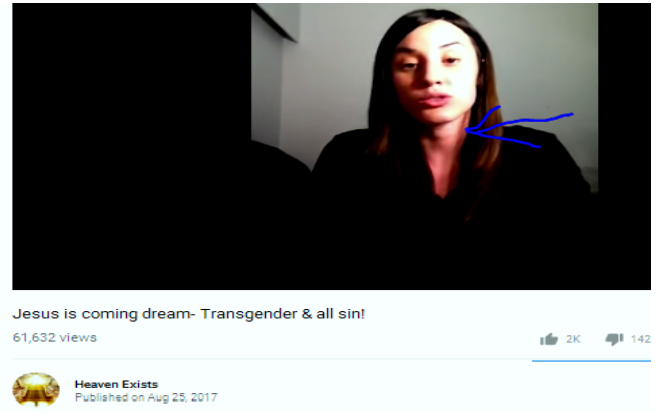 April 5, 2018 – The Holy Spirit has led me back to look at this Heaven Exists YouTube preacher or is known as the "Heaven Exists YouTube Girl." This person claims to be a former lesbian but this person is a man with an Adam's apple and he seems to be bald and wears a not so great wig. For the most part his gospel teachings are on the mark. The Holy Spirit led me to look at his videos and I finally heard the blasphemy coming from his mouth.
In his video "Dress to impress THE KING" starting at 11:09, this guy tells females to cover up and states that only the ones that only the people that dress modestly will go up in the rapture or something along those lines. Christians know that it is only by the repentance of sins and accepting King Yeshua as your savior that you will enter into heaven. I've attached a audio clip of his statement.
My fear about this guy is that one day he's going to pull his wig off and tell you that he's really a man and he's been pulling the wool over your eyes. He may say to you that God isn't real because if he was he would have told you that I'm really a man. This guy has the nerve to say he's a reformed lesbian and is now teaching Christians how to love Jesus. He often mocks out the Holy Spirit by starting his videos saying "speak through me Holy Spirit."
Please pray to God through our Lord and savior Yeshua/Jesus and ask God if you should listen to "Heaven Exists" videos.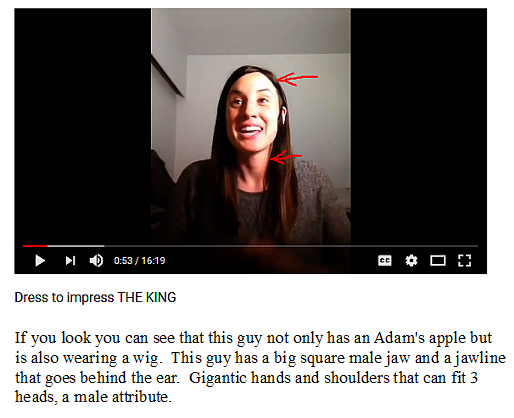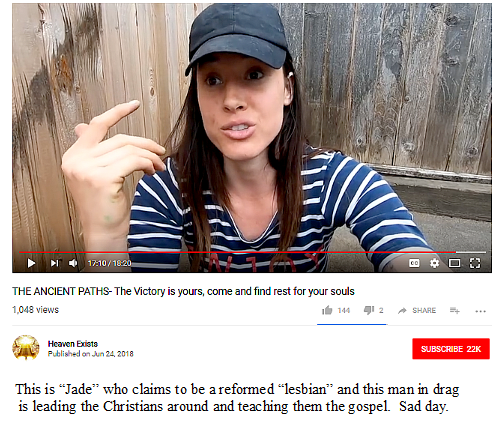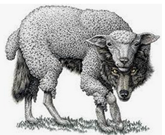 See how "Pastor" Carl Lentz jawline goes in front of the ear – a female trait.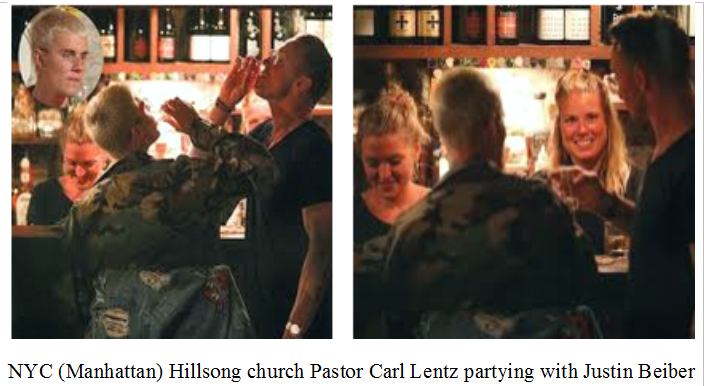 In this short 2 min. clip, you will see Justin Beiber and her/his "friend" (really) "pastor" Carl Lentz.  In one of the pictures, Carl will be shirtless and his shorts are almost falling off.  I mention this because you will think that you're looking at a male, but this is a Female to Male.  Don't let the Adonis belt on Carl fool you because now there are implant surgeries for to install this on the body, like parts for a car.  Carl's jawline is still female and there's no getting around that.  Carl, you look hideous. Justin, you too except dorkier.
An under 2 min. clip of "pastor" Carl Lentz.  You will see that Carl has sloping female shoulders, jawline in front of the ear and no brow bone.  Carl also has gross reptilian thumbs. This clip also shows Justin Beiber brushing her/his teeth on an interview.
1st pic is admitted Female to Male – Aydian Dowling; 2nd is Beiber with the belly button below the waist; 3rd is Pastor Carl Lentz with the belly button below the waistline.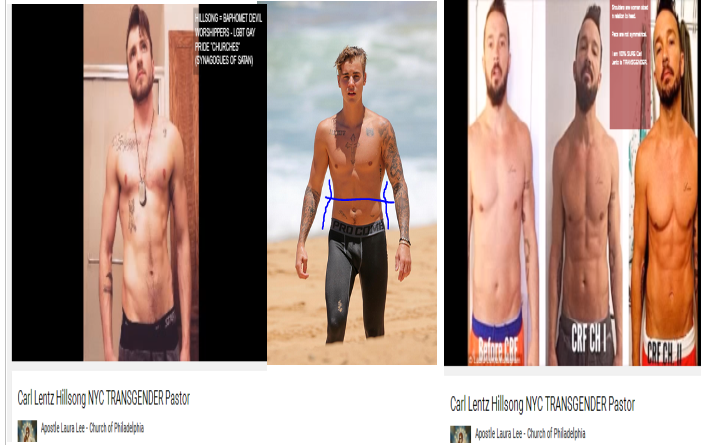 Apostle Laura Lee on "Pastor" Carl Lentz – a joke of the century.
"Pastor" Carl Lentz's church also had the "Naked Cowboy" perform at their "church" in NYC. This is a 1 min. video.
Video: "Footage of Hillsong New York featuring "naked cowboy" 2″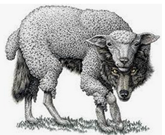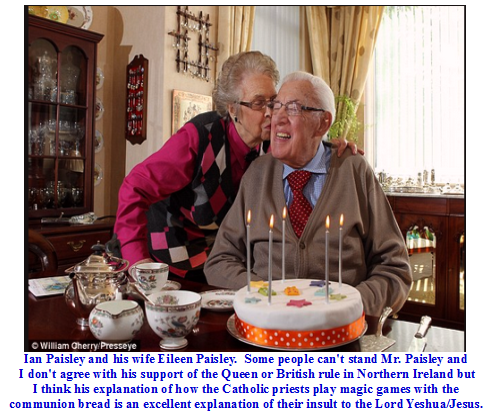 Let me clarify that Ian Paisley (pictured below) does not belong on this Religious Oddities section but I've put his 2 min. audio clip here to counter Mr. Copeland's support of the Pope.
audio clip of Ian Paisley on the Eucharist in the Mass.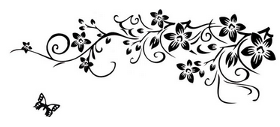 Video by Richard Bennett:  "Catholic Inquisition and the Torture Tools by Former Priest Richard Bennett"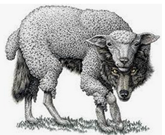 Illuminati Merovingian bloodline Pastor Anderson confronts protesters outside of the church where he was a guest speaker. Anderson asks the guy if he's a homo and the guy says no we're bible believers and they start arguing scripture and Anderson shoots up the 666 hand signs.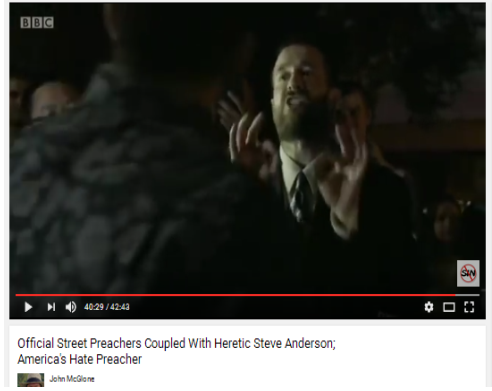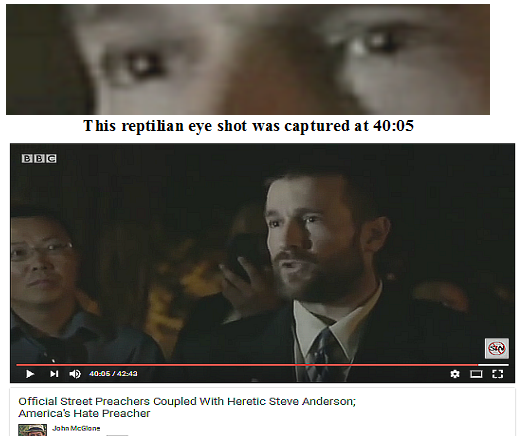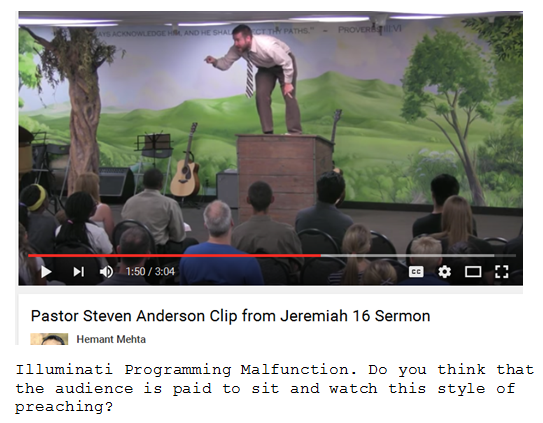 Pastor Steven Anderson is famous because he resisted at a checkpoint (you can find it online maybe).  Anyway, get got pulled out of his vehicle and he had cameras in his vehicle and after he was released he made a video talking about the incident.  In the after the arrest video, I notice that "Pastor" Anderson was wearing two different shirts during the video.  One shirt was from a fire dept. and the other shirt's emblem looked very similar to the ouroboros snake.  Just thought that I would add this pic here.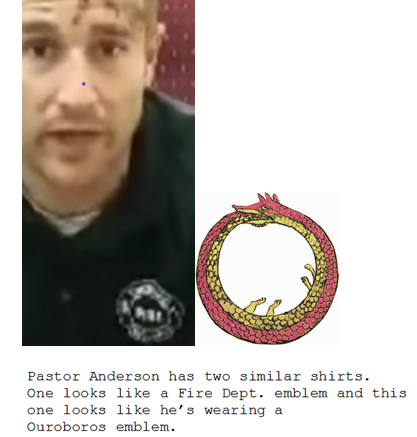 Dr. Charles Stanley is a great grandson to the King of Scotland though his paternal line and then like his 3rd great grandmother, Mary Polly Strickland. b. 1849, then through her bloodline this connects to royalty. Dr. Stanley is not a cousin, nephew or in-law, but a direct descendant – a great great grandson. I traced it down and this would make sense why he speaks with forked tongue. Please see the video: Can a Saved Person Live a Life of Sin and Remain Saved? – Charles Stanley.  This video he causes one to believe that if you are "Once Saved" then your always saved.
Mary Polly Strickland connects to the info that I found connecting Stanley's bloodline below and for time and space sake I'm not typing all of the names, bdays and places of birth.
"Gilbert, the traditionary admiral, was the direct progenitor of Isabella de Neville, wife of Robert Fitz Maldred, Lord of Raby, and sole heir to her brother, the Henry de Neville before
mentioned."
(Okay this is me speaking now; through Robert Fitz Maldred, Lord of Raby, listed above, this bloodline goes back to Malcom the King of Scots. The Egyptian Pharaohs daughter, Princess Scota in which Scotland was named after her – Scota Land.)
"From her son Geoffrey Fitz Maldred, who assumed his mother's name but retained his father's arms, sprang the magnificent tree the branches of which are truly said to have overshadowed the land. This Saxon line of Nevil has given to England two queens, a
Princess of Wales, a mother of two kings, a Duke of Bedford, a Marquis of Montacute, Earls of Northumberland, Westmoreland, Salisbury, Kent, Warwick, and Montacute; Barons Nevil, Furnival, Latimer, Fauconberg, Montacute, and Abergavenny; Duchesses of Norfolk, Exeter, York, Buckingham, Warwick, Clarence, and Bedford; a Marchioness of Dorset; Countesses of Northumberland, Westmoreland, Arundel, Worcester, Derby, Oxford, Suffolk, Rutland, Exeter, Bridgewater, and Norwich; Baronesses de Ros, Dacre, Scrope, Dovercourt, Mountjoy, Spencer, Fitz Hugh, Harrington, Hastings, Comyn, Willoughby de Broke, Hunsdon, Cobham, Strange, Montacute, and Lucas; nine Knights of the Garter, two Lord High Chancellors, two Archbishops of York, a Bishop of Salisbury, of Exeter, and of Durham."
http://familytreesurnames.blogspot.com/2010/08/neville.html
"The First Nevill of Raby. It is with the great house of Nevill that Raby is most associated, which came about in this way: in 1131 the Manor of Raby was granted to Dolfin, son of Uchtred (and descendant of Malcolm II, King of Scots), by the Prior of Durham. This Dolfin married Adelicia, niece of Bishop Flambard, who built Durham Cathedral; their son, Maldred was the father of Robert Fitzmaldred who married Isabel Nevill, a great Norman heiress, who eventually inherited the Manors of Sheriff Hutton near York and Brancepeth, together with lesser lands and manors."
https://www.findagrave.com/memorial/84503868/isabelle-fitz_maldred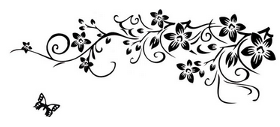 READ MORE