Donald Trump's Mar a Lago Club aka "President's Retreat"

1 min audio clip of Woolworth speaking to the crown about his skyscraper
Hi Blessings,
So there's this place called the Mara-a-Lago Club also known as "Presidential Retreat" and to some it may seem very beautiful but knowing what I've heard about heaven it doesn't even come close to the beauty that God has in store for those that love him.
I first learned of Mara-a-Lago by watching a Lifetime show about the Woolworth heiress Barbara Hutton played by the beautiful Farrah Fawcett (both Barbara and Farrah are bloodlines).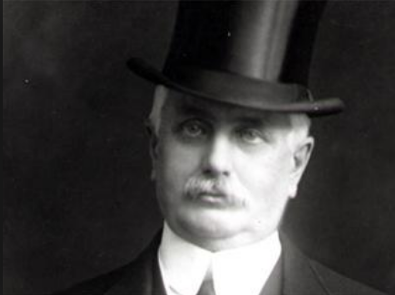 Barbara's grandfather was F.W. Woolworth and he was portrayed like this; a hard working shop keeper who made his fortune by putting the items out onto the shelves instead of behind the counters which was way it used to be in the old days.  Woolworth said that the new immigrants in America couldn't speak English and ask for let's say a frying pan but they can pick it up off of the shelf and go to the counter to pay for it.  This is the story that is presented to us on how he became very wealthy.  What they don't say is that he was related to several U.S. presidents.
https://househistree.com/houses/winfield-hall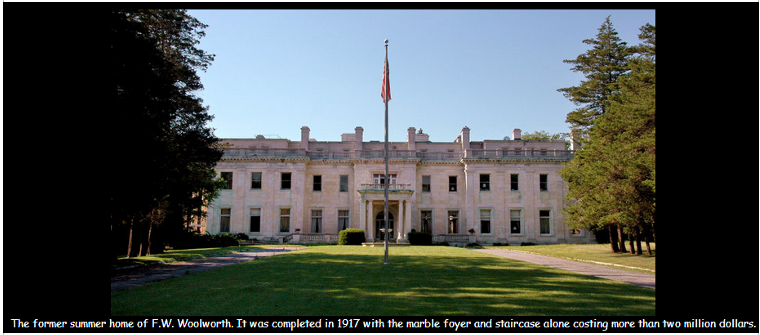 The flag pole wasn't always there.  It's a bad spot for it.

So Barbara's mother Edna was married to Franklin Hutton the brother of the famous E.F. Hutton Company.  E.F. Hutton was married to Marjorie Merriweather Post of the Post Cereal family meaning super wealthy.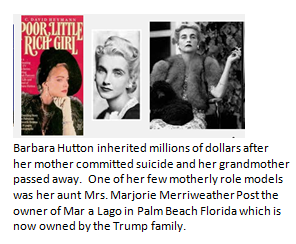 Video: "Barbara Hutton: A Tragic Heiress Worth $387 Million"
Video:  "Barbara Hutton" by AP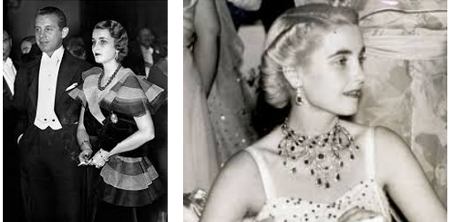 Song: "I Found a Million Dollar Baby (In a Five and Ten Cent Store)"
Video by Truthful Spirit: "Silver Screen Trannies Part 3: Bing Cherry Crosby"
Farrah Fawcett a Illuminati bloodline from Texas played Illuminati bloodline Barbara Hutton.

Marjorie built the Mar-a-Lago home and it was just one of her several exquisite homes.  Marjorie was the 18th great granddaughter to King Edward I. You can just type:  Famouskin.com  Marjorie Merriweather Post and read the long list of famous connections.  So according to Wikipedia Mar-a-Lago was built as a summer home with 126 rooms and sitting on 17 acres.  When she passed she donated the estate to U.S. Govt. (? – British owned) to be used as a retreat for U.S. presidents and dignitaries which would be really for her cousins since all of the U.S. presidents were or are related to the British Royal family and that includes our current president.  The U.S. Govt. returned the estate to the family (high up keep costs) and then it was sold to Mr. Donald Trump who is also bloodline to the King of England.  Yay for the royals.
Video: "(The Palm Beaches stories) Mar-a-Laago and Palm Beach"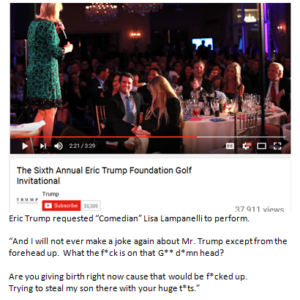 Video: "The Sixth Annual Eric Trump Foundation Golf Invitational"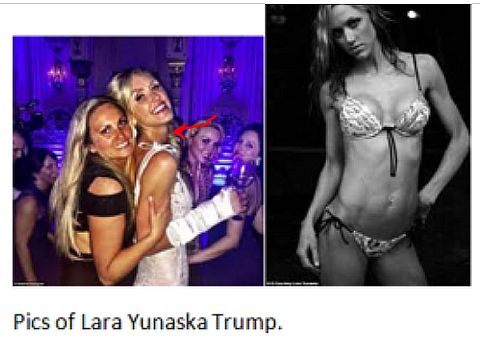 Video by Transpocalypse Now:  "Lara Trump – Señor Advisor"
Look at Ivana's neck @ 0:46 – you can see the bulging Adam's apple.
Video:  "Donald Trump on Marriage:  "Ivana Does Exactly As I Tell Her to Do" / The Opray Winfrey Show / OWN"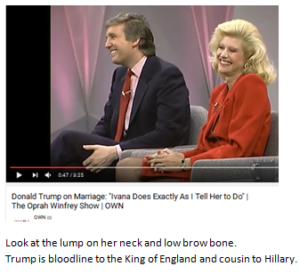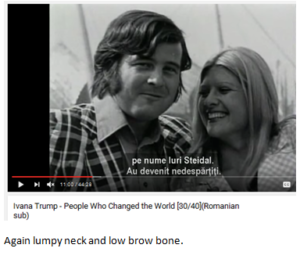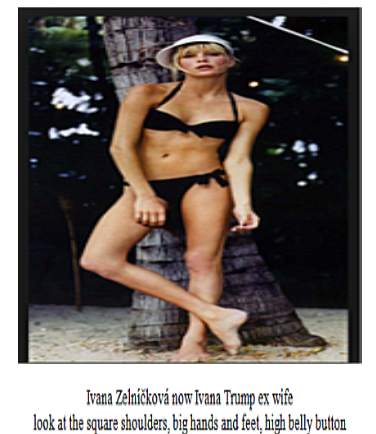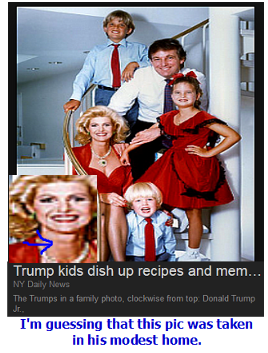 Group pic – look at Ivanna's neck and Melania's long arms and large hands.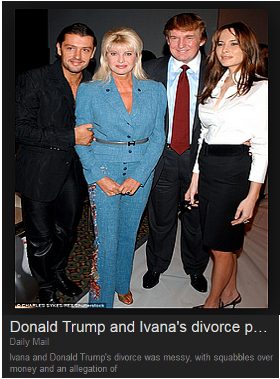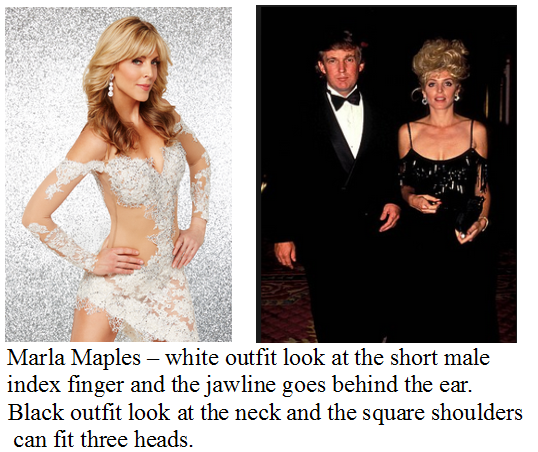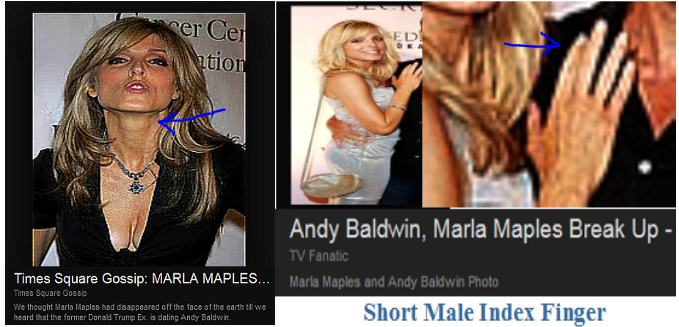 You can see the Adam's apple @ the 3:00 mark.  Video: "Ivana Trump Interview 1992 (Donald Trump ex-wife)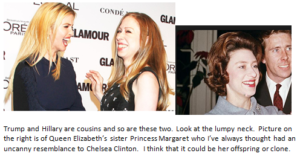 This Tax Haven video is 6 min.  Video: "Busted: Hillary Clinton & Donald Trump Share the Same Tax Haven"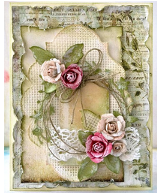 Mar a Lago is not prettier than heaven.  People have died and come back and have said that they saw the pearly gates, streets of gold and mansions. Another person who had gone to heaven and back said that the grass blades had diamonds like dew drops.  People who died and came back saw relatives who were old when they died and in heaven looked young.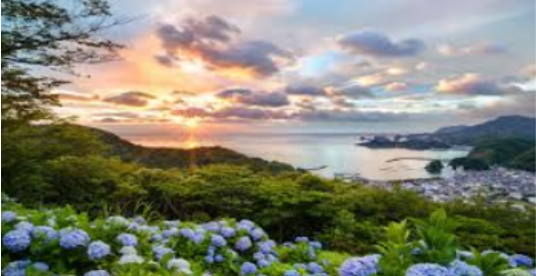 This is in the bible in Revelation and this is a short description of heaven:
"And God shall wipe away all tears from their eyes; and there shall be no more death, neither sorrow, nor crying, neither shall there be any more pain: for the former things are passed away.
…her light was like unto a stone most precious, even like a jasper stone, clear as crystal; And the building of the wall of it was of jasper: and the city was pure gold, like unto clear glass.  And the foundations of the wall of the city were garnished with all manner of precious stones. The first foundation was jasper; the second, sapphire; the third, a chalcedony; the fourth, an emerald;  The fifth, sardonyx; the sixth, sardius; the seventh, chrysolyte; the eighth, beryl; the ninth, a topaz; the tenth, a chrysoprasus; the eleventh, a jacinth; the twelfth, an amethyst.
And the twelve gates were twelve pearls: every several gate was of one pearl: and the street of the city was pure gold, as it were transparent glass."
Peace,
Missy