Home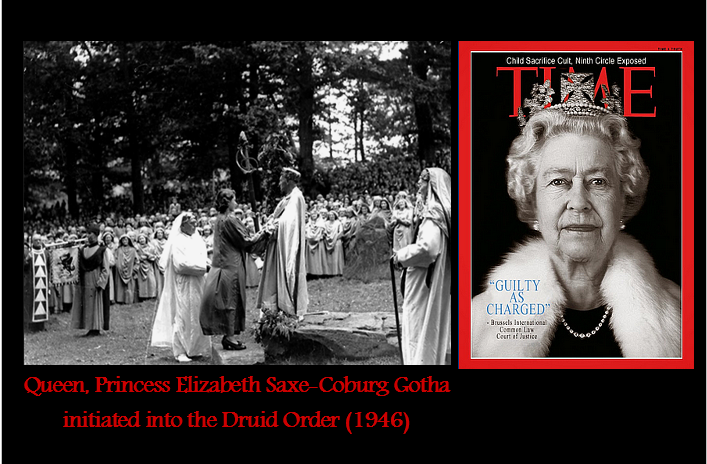 November:  I'm trying to finish up the David Koresh post this month.  I've been a little distracted with the Osteen's and now Kanye West who has been invited to attend their church.
Video:  "Terrifying!! "Judgement Day" Dream!"  This video is a little over 2 min.  He had a dream of the judgment day and the line of people facing Jesus.  In this lifetime you have for the most part, free will to live as you choose.  When you die you will face King Yeshua/Jesus and it will be his will for your future.
I want to remind everyone to call on the name of King Yeshua/Jesus if you're choking or sick or having chest pains just call on him.  Say:  Yeshua or Jesus help me or say The Blood of Yeshua or Jesus.  The whole point of this blog is for you to know that you are not alone in this world but that you can call on the name of King Yeshua/Jesus for anything because he loves you.  "He sticketh closer than a brother."
So, I was looking at interviews with Carmen Electra who seems to really gravitate towards topics like: stripper poles, garter belts, ect…  Anyway, what got my attention is that Carmen has curved thumbs.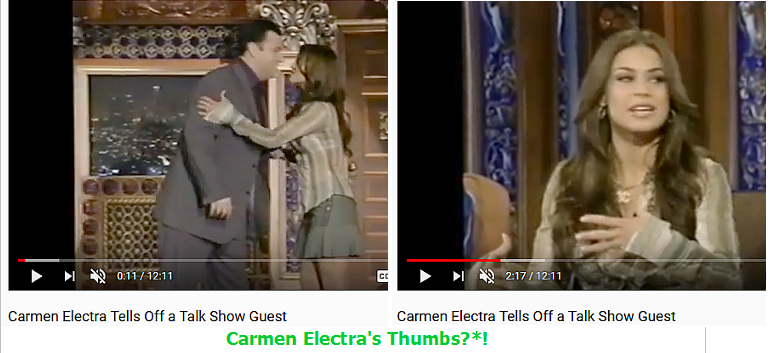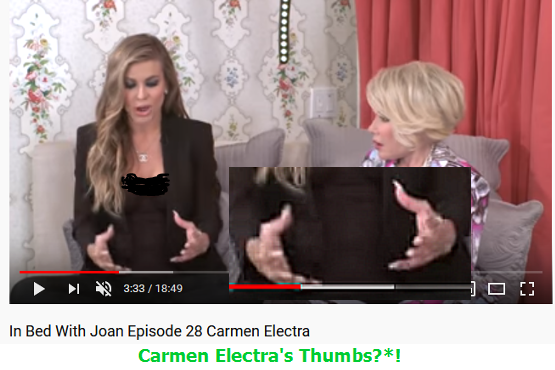 Divine Truth1 has a video on movie stars and musician reptilian thumbs. This pic below is from another video on reptilian thumbs.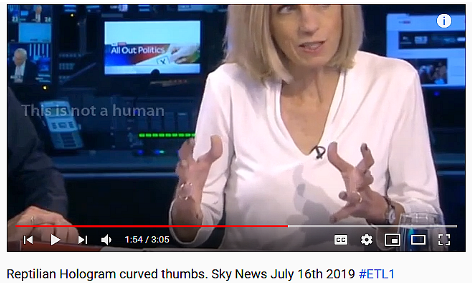 Video by Divine Truth1: "TRUMP illuminati hybrids present with curved thumbs #ETL3"
Let's go back to Carmen for a second.  I was remembering when Carmen was married to Dennis Rodman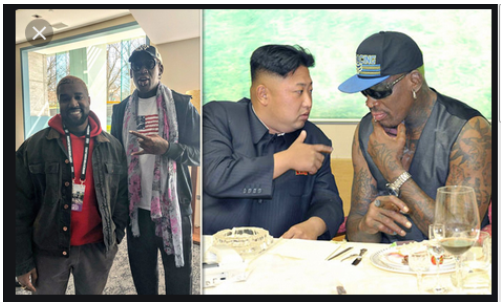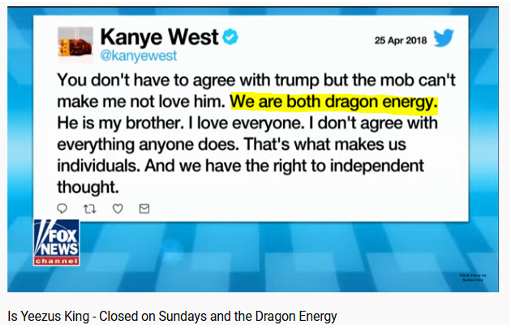 What Kanye is saying is coded and he's describing that both Kanye and Trump both support the Catholic Vatican "church" aka Dragon Energy.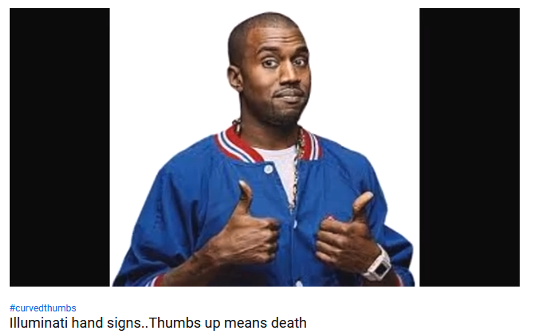 Video by Divine Truth1:  "Illuminati hand signs..Thumbs up means death"
Oh, and then I started thinking about Kanye and his new religious stuff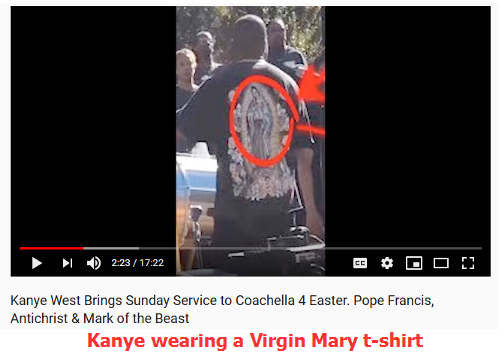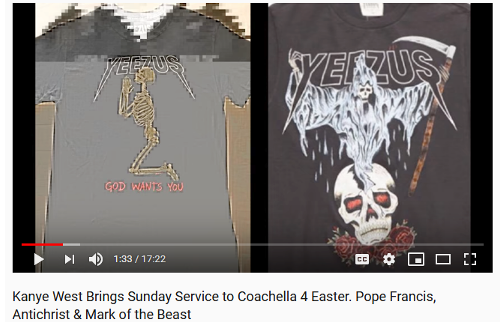 Video:  "Is Yeezus King – Closed on Sundays and the Dragon Energy"
Video: "Kanye West Brings Sunday Service to Coachella 4 Easter. Pope Francis, Antichrist & Mark of the Beast"  You be the judge on Kanye.  Pray to King Yeshua/Jesus to reveal to you the truth about Kanye.
This was originally caught by Truthful Spirit Blue Heron.  I cut it down to just this clip of Kim with a close up of the neck.
Video by Epic Sellouts: "White House 90210" Starring the Donald, Kanye and his significant other.
Video by Boldsojah4Christ: "Kim & Kanye West! Halloween Costumes! West worm! Maggots & Flies OFFERINGS!!"
Since we've been looking at Kanye's new musical road, let's take a look at another "Christian" artist.
Video: "Lauren Daigle MK ULTRA GLITCH during WITCHING HOUR!"
Video by Drew Bloom. This is on my religious oddities section.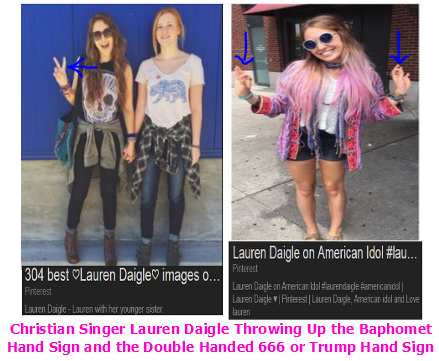 Video: "The FREAKY World of "Christian Artist", TobyMac"
  It's Always a Storm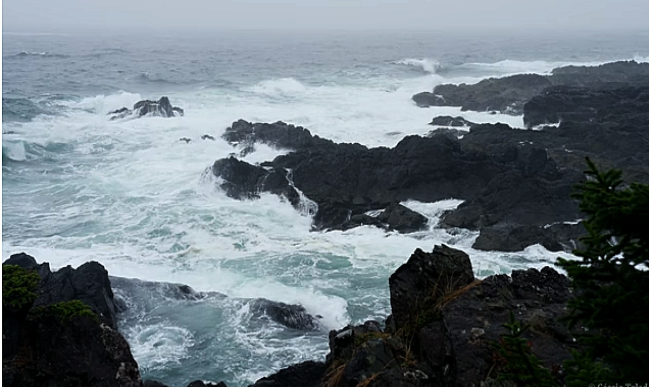 Below is the same as always.
Added to Fav Illuminati Vids:  Envelope analysis of Hillary, Biden, Bush, and Pence, in the video: Bush Funeral ThreePointsOfView w/Seething Frog BodyLanguageGhost and RedPill78
Added to the Mark of the Beast a vid by: Servant of God; Added to My Fav Prayers – 9th Bless Your Enemies. I put some info on why we should bless our enemies and how to pray for them to help them and in the end it helps you. "Only the weak are cruel, gentleness can only be expected from the strong."
Christians – this is just a suggestion of what I do to reach out to people about Yeshua/Jesus and the Mark of the Beast.  I typed up a paper with info (mostly everything that's on my Fav Prayer page) and I give it to the drive through cashiers, grocery store cashiers, grocery cart workers, homeless…  I say "Hey, do you know Jesus? Do you want this paper; it has prayers and stuff on it." They generally take the paper.  Most of them only know about Jesus through Christmas.  Only two homeless guys didn't want anything to do with Jesus.  For the homeless I give money or fruit and the paper.  Christians – The most important thing is to get the message out about Yeshua/Jesus, repent for their sins and the Mark of the Beast.  Please get creative and find ways to let everyone know. You can always pray for people, that's super simple. Peace, Missy
Here are a few YouTube sites/vids, etc. that I like:
"Honest News Network" – religious site that includes political end time events.
My own blog post:  "The Crucifixion – The Ransom" page: "Israeli Geneticists Confirm Jesus' Father 'Non-Human"
YouTube site: "LivingTruth" people giving their testimonies of heaven and hell dreams.
"DrewBloom 34", Christian site, simple guy not selling anything or asking for donations just being a watchman trying to wake the people up.  I think one of his best areas is exposing "Christian" artists as fake and why people shouldn't follow them.
Leuren Moret: Global Nuclear Coverup on YouTube'
"SPIRIT 105.9" Christian Music Station Austin, TX  http://www.spirit1059.com/listen-live/  I listen to this station but they promote all of the pagan holidays and other things I don't agree with. 
Detroit-Croatian Mafia Partnership / mysite -Wix.com He exposes Illuminati mob families…This site has been taken down.  He had some wonderful genealogical info on the mob or mafia families.  You can still find some of his articles by using this search name:

ahuwahzeus583992924
Love, love, love these 2 vids in particular because Pastor Hitchcock is very calm and thorough: 7 Reasons Pre-Tribulation Rapture Before Great Tribulation – Mark Hitchcock; and also
"The Judgment Seat of Christ" (Dr. Mark Hitchcock) This video explains the Judgment Seat. Our salvation is paid for by our Savior; this will will be for our rewards for what we've done for the Lord. These 2 vids are in my Fav Heaven and Hell section.
"Now You See TV" only when they have Gary Wayne, author of the Genesis 6 Conspiracy.  Gary Wayne's video:  Nephilim (Giants) Plan to Enslave Mankind/Book of Enoch. I also love Gary Wayne's YouTube site.

This link shows you a great overview of Gary Wayne's book and his chapters on the giants of the bible.
http://genesis6conspiracy.com/section-iii-the-descendants-of-anak-bloodlines-and-covenants/
(not on YouTube) "Pseudo-Occult Media.net" – Exposes celebrities and their mind control or monarch programming.  Explains why the monarch butterflies and pink hair/wigs are used for alternative states of mind and are important to the splitting of their minds to mold them to be what the powers that be need for their money making beast machine.
I love this cooking site on YouTube and her blog called:  "Divas Can Cook".  Amazing recipes for fruit Popsicle and ice cream made with fruit.  She does use sugar but you can switch it out by using Monk Fruit if you want to.

"Servant of God" on YouTube – super sweet Christian that receives end time dreams about the Antichrist and the Mark of the Beast
These sites expose reptilian demons: "M Ricci", "Divine Truth1", and also "StarSpirit123"
"ONE FOR ISRAEL Ministry": a YouTube site of stories of Jewish people that found Jesus
"Hell Testimonies" – YouTube site
These YouTube sites expose switched genders: My Favs – "Transpocalypse Now"; "Epic Sellouts" (he's really brutal), 

Ashraf Ezzat – I like most of his videos and especially this one: "Joseph the Patriarch is Arabian (Eye opening)" I'm still a Christian but Dr. Ezzat gives a very good historical account of things and it's very interesting to take a look at. Also, Dr. Ezzat has a book titled: Egypt knew No Pharaohs Nor Israelites.   I like Mr Ezzat one eye shadow of his face on YouTube – so situation normal.
This blog is for entertainment purposes and spiritual healing only.